4. Guideline development in the EU
Guideline development in the EU
The development of scientific guidelines in medicines regulation follows a fixed procedure. All Working Parties (WP) of the EMA's Committee for Medicinal Products for Human Use (CHMP) will typically use this process:
Concept paper on new guideline
Acceptance by CHMP
Appointment of rapporteur
Draft guideline in WP
Draft published for consultation
Comments
Finalisation of guideline in WP
Adoption of guideline in CHMP
Implementation of guideline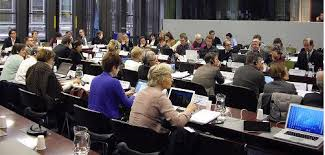 A proposal for a new guideline may be initiated by any actor or group with an interest for the regulatory field but needs to be approved by the CHMP before a working party starts elaborating it. A member of the WP will act as rapporteur and prepare the first draft. The WP will discuss and modify the draft during meetings at the EMA. The draft is then published on the EMA website. Industry, NCAs and other stakeholders can comment on the draft after its publication. The WP may invite any stakeholder to a meeting to discuss any more complicated comments. After finalisation of the guideline in the WP, it is forwarded to the CHMP. The CHMP has to formally adopt the guideline to be published on the EMA website.
Guidelines may also be developed within the ICH (International Council for Harmonisation) structure. This work takes place in collaboration between the EU, USA, Japan and other regional and national organisations (see lesson 2). A final new ICH guideline is agreed between the parties involved. Implementation is performed on a regional basis. In the EU, the new guideline must be formally adopted by the CHMP. Afterwards, the guideline is published on the EMA website as a CHMP/ICH guideline.